We Accept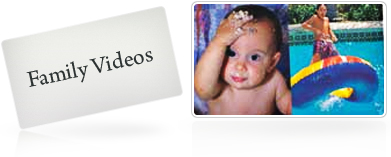 Family Videos- Available on DVD!
We want to make your child a star!
A Family Video will make your child a star of his or her own video. From your home video tapes, we will create a professionally edited program featuring the highlights you choose. With professionally compiled special effects, title and music, the Family Video is the perfect gift for grandparents, long distance friends and relatives for all family events and holidays.


Some suggestions you may want to capture and preserve:
1st Day at Home
1st Steps
1st Words
1st Birthday
Vacations
Graduations
You Decide!

In Addition to gift giving, the Family Video preserves your family history and can bring to life a relative that younger generation never knew.
For more information on how to capture your family's and receive a free estimate on your Family Video, call or contact us today


Here's how to get started:
1. Decide who you are creating the video for - friends, family, siblings, etc.
2. Decide who will be the subject of your Family Video.
3. Choose a timeline - how the materials will be organized on your video.
4. Pick a song that will set the mood of your video.
5. Review your existing tapes and decide on clips to use.
6. Call us to set up an appointment.
QUESTIONS AND ANSWERS ...
Can I use any video for this project?
Yes, any video can be used, be sure to pick out good clear shots.
How long should the Family Video Be?
We recommend about 4 minutes; we edit the video to match the the length of the song you've chosen for us.

How much does a Family Video Cost?
Family Time Videos start at $495.00 We can do a simple effective video or add special effects. In general, the more clips you pick, the more expensive the final product is. Call us for a free estimate.

Can you put my Family Video on DVD?
Absolutely! We Specialize in DVD transfers.
Have any other questions? Call or Contact Us today!